Wound Care Patient has a New Outlook on Caring for Himself and Others, Thanks to Shore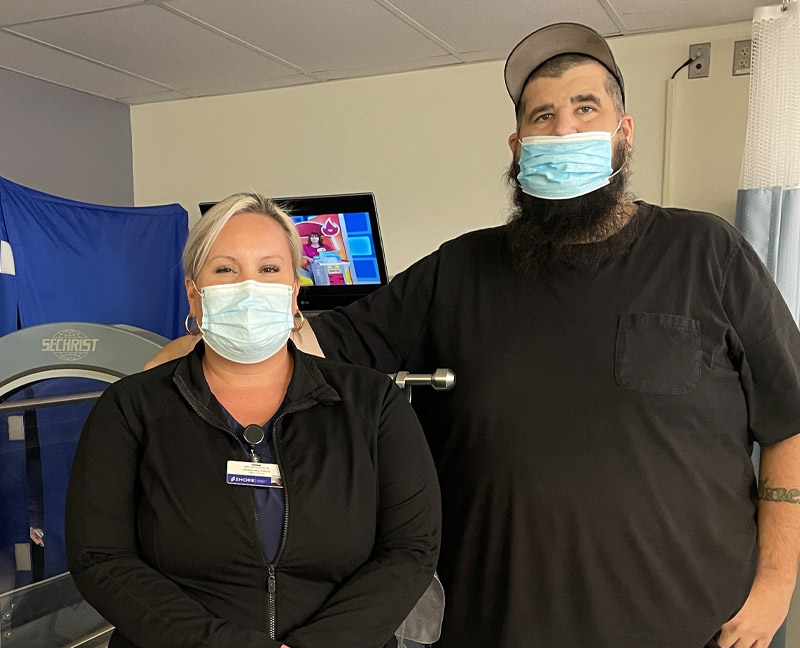 Thirty-seven-year-old Kevin Jordan used to be a construction foreman with the mindset most young people have—that he was invincible. Kevin has type 2 diabetes, but he never gave much thought to his condition or his overall health.
But in 2021, reality struck. Kevin stepped on a nail at work and didn't think anything of it at the time. However, in September 2021, Kevin discovered he had osteomyelitis from his injury, which is an infection in the bone.
After speaking to a doctor, Kevin was told he would need to have his entire leg below the knee amputated. Kevin came to Shore for a second opinion, and to his delight, Dr. Matthew Lawrence, a vascular surgeon at Shore Physicians Group, informed him that he would not need to lose half his leg.
"Dr. Lawrence is top-notch," said Kevin. "He saved my shin and foot."
Dr. Lawrence performed surgery on Kevin, including a skin graft, and amputated only two toes and part of his right foot.
Dedicated to his job in construction, Kevin recovered and returned to work for eight months before developing an ulcer. Due to his neuropathy, Kevin did not feel pain, but he knew something was wrong. He decided to push through and keep working through the summer, but unfortunately, he developed a blister as well, which ruptured, causing him to lose his pinky toe.
After his positive experience with Dr. Lawrence, Kevin chose to return to Shore. Dr. Christopher Lucasti, Infectious Disease Specialist and Epidemiologist, referred Kevin to Wound Care at Shore.
In September, Kevin began treatment in Shore's hyperbaric chamber to help the wound heal, and he just recently finished his treatment.
"I would never go to another hospital; the care at Shore is above and beyond," said Kevin. "I have developed a lot of personal relationships with the doctors and nurses at Shore. I feel like I'm part of something special here. The people here aren't looking for money or fame; they truly want to help other people."
Kevin came to Shore 4-5 days a week for two hours to receive his treatment and worked with hyperbaric tech Jessica Lynch.
"Jessica is amazing," Kevin shares. "We grew up in the same area. She took care of my grandfather and knows my whole family. We've developed a true friendship, much deeper than a typical patient-caregiver relationship. If I need to talk, she's here to support me and answer any questions."
Although Kevin's injury was an unfortunate circumstance, he focuses on the silver lining.
"I'm in a much better place now," Kevin said. "I'm taking care of my type 2 diabetes now with help from Dr. Vijay Balakrishnan from Shore Physicians Group and the dietary team at the hospital. I have a better mindset now, thanks to the compassion Shore's providers have shown me. When this is all done, I would love to be able to work at Shore. I would really enjoy being able to talk with patients and help them through their tough times the same way the people I met at Shore helped me."