Make Annual Well Visits a Priority to Stay Heart Healthy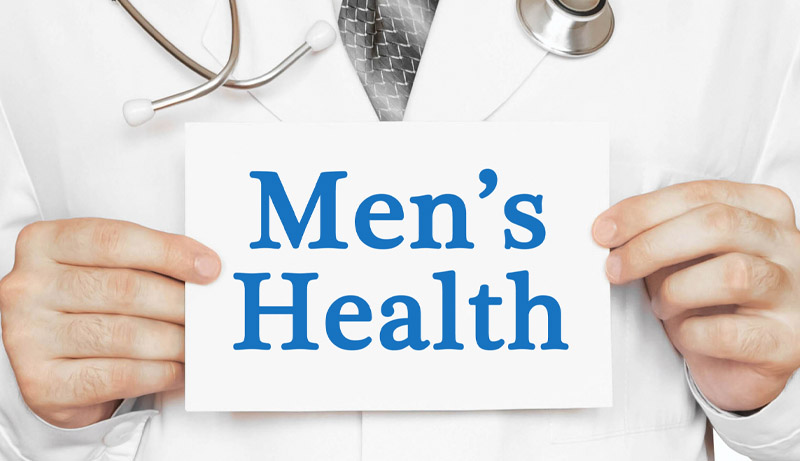 June is National Men's Health Month
As an internal medicine physician with Shore Physicians Group's Northfield office, Dr. Maria Cerna is just as passionate about helping her patients prevent illness as she is about treating them when they are sick. However, in order to help her patients remain healthy, they first need to come see her for their annual well visits – something most men are reluctant to do. In fact, in the 2019 Cleveland Clinic MENtion It® study, they found that 72% of men would rather do household chores than see the doctor – including mowing the lawn and cleaning the bathroom.
Prevention First
June is Men's Health Month, which Dr. Cerna sees as a great time to encourage men to make annual well visits an important part of their lives. Dr. Cerna cites some concerning statistics about men's health from the CDC and the Cleveland Clinic study:

Men die on average 5 years earlier than women
60% of men don't go to the doctor unless seriously ill
65% of men try to self-diagnose before going to the doctor
82% of men say they try to stay healthy to live longer for friends and family who rely on them, yet only 50% engage in preventative care
20% of men admit they have not been honest with their doctor, citing concerns with feeling a sense of shame or judgment
While these statistics may be startling, Dr. Cerna sees it as an opportunity to help encourage men to see their doctor each year and get regular health screenings.
"Quality health care for everyone includes appropriate preventive care to attempt to lessen future health decline, which should be an important aspect of any medical practice. I encourage all my patients to get regular health screenings for early detection and treatment of multiple diseases including heart disease, cancer and depression," said Dr. Cerna.
Heart Disease is the #1 Killer
One of the most serious health issues in men is heart disease. According to the American Heart Association, heart attacks cause 1 in 4 deaths in men, followed by cancer which kills 1 in 5 men.
"High blood pressure is the number one factor that leads to heart disease and more than 50% of men unknowingly have high blood pressure. Most of the time these conditions may not have symptoms, so checkups help identify issues early. More than 40% of men above age 20 are obese which contributes to heart disease," says Dr. Cerna.
Know Your Numbers
Dr. Cerna says that knowing simple things like your numbers for blood pressure, blood sugar, cholesterol and BMI can help identify problems early before they become potentially full blown serious health issues. "Knowing your cardiovascular disease risk score (ASCVD score) helps us make appropriate decisions regarding treatment and prevention. One of the easiest ways to get your ASCVD risk score is at your annual physical exam," says Dr. Cerna.
The great news about improving cardiovascular health, Dr. Cerna says, is that there are many small steps she can help her male patients with to lower their risk of heart disease. Checking in with your doctor once a year can help keep you track with those lifestyle changes, which include:
Exercising: Dr. Cerna recommends at least 30 minutes of moderate to intense physical activity 4-5 times a week. She says, "Inactive people are twice as likely to develop heart disease. Once you start exercising regularly, it won't feel like such a chore because you will start feeling much better!"
Quitting smoking: Seek help from free quit resources, such NJ Quit Line. Just call 1-866-NJSTOPS to get started!
Adding more fruits and veggies to your diet: According to the CDC, only 1 in 10 adults eats enough fruits and vegetables. Adult men need at least 2 cups of fruit and 3½ cups of vegetables each day. A dietitian can help you develop a healthier eating plan and stick to it.
Limiting alcohol intake: The American Heart Association recommends men have no more than two drinks per day.
Making prevention a priority: See your doctor every year and make sure you're getting recommended health screenings.
Dr. Cerna said that it is never too early to start taking care of yourself and making regular doctors' visits a priority. She shares this quote by Robert Baden-Powell, a British soldier, national hero, educator and writer who founded the Scouting movement: "Happiness doesn't come from being rich, nor merely from being successful in your career, nor by self-indulgence. One step towards happiness is to make yourself healthy and strong while you are a boy so that you can be useful and so you can enjoy life when you are a man."
"This is the best time to empower men to make time to develop a health plan, just like you make a financial plan. Remember, you will not be able to enjoy that money if you do not plan for a good health."
Dr. Maria Cerna is a primary care physician with Shore Physicians Group's Northfield office located at 2605 Shore Road. Dr. Cerna is fluent in English and Spanish. To learn more and schedule an appointment, please call the Northfield office at 609-365-5300.