Behind the Scenes – Surgical Division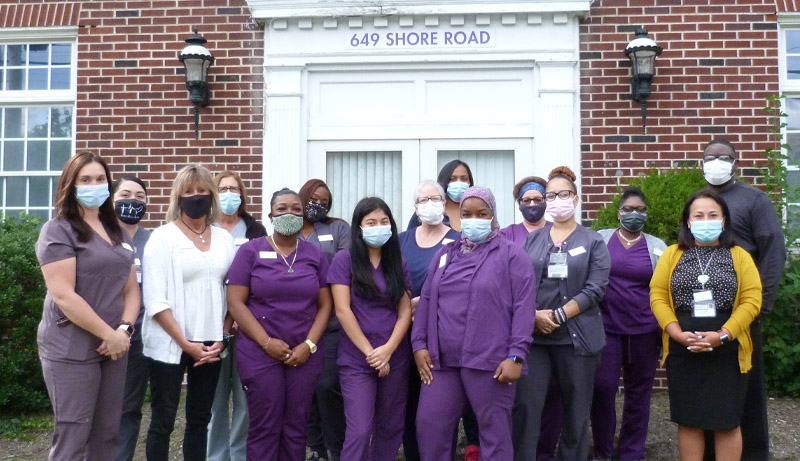 In this month's Behind the Scenes feature, we highlight the Shore Physician Group Surgical Division team at 649 Shore Road in Somers Point. These compassionate and dedicated professionals have an integral role in our patients' journeys, guiding them through the entire process.
Surgery is a journey for people whether it is a few short months or a series of procedures needed to ensure the patient's quality of life. SPG Surgical Division Practice Manager Zeika Gomez said, "The people in the office are a big part of the patient's journey. Starting at the front desk, each person plays an important role, coordinating everything so we are getting the patient best prepared for their procedure or surgery and assuring them of the safe environment."
The team members in the Surgical Division work in unison to assure each and every patient's needs are met. "We are here to help. We check their eligibility with the insurance company, check on Covid 19 screening, along with all pre and post-surgical test scheduling," said Patient Service Representative Monique Donaldson. "We understand a trip to the physician might be stressful for some of our patients and we really want to help them in whatever way we are able to make their experience less stressful so when they leave the office they have everything they need."
Offering support and working with every team, making sure the office works smarter, streamlining efforts so each patient's experience is positive is the goal of Surgical Div. Supervisor James Curtis. "We deal with patients every day. We want to give them a light of hope and confidence that we are with them."
Surgeries are scheduled through the office, and scheduler Sara Weber educates as well as coordinates care and offers encouragement. Understanding the emotional and mental health aspects of healing is important. Patients facing surgery along with their family members or those who recently had surgery might be feeling stressed and overwhelmed. They have questions and for Nurse Kameesha Blake, finding all the answers that will allow them to feel more informed is very important. "I am happy to speak with every patient on the phone, in person or through the portal. They really do feel your energy and I think they know we go that extra mile for them so they can clarify instructions or answer any questions they may have."
The medical assistants lead patients from their consult appointments to the very last post-operative appointment of care, according to Medical Assistant Ashley Sprigg. "Ensuring them the entire way we will do our best to make sure their prep, surgery, and post care are at all no stress for the patient." The MA's process orders alongside the providers, triage and manage phone calls of concerns, and provide any wound care necessary. Patients truly become comfortable with MA's being their "go to" person.
Beyond procedures and surgery, the new Shore Vascular Testing and Diagnostic Center is located within the Surgical Division. Registered Vascular Technician Tracey Nadel works closely with patients to help them relax as they prepare for their screening where they perform noninvasive ultrasound exams to evaluate the arterial and venous system of the neck, abdomen, legs and/or arms, depending on the patient's symptoms.
James Curtis said, "We understand and communicate with each patient that it is our privilege to help successfully navigate our patients on their journey to better health."