10 Reasons to Schedule this Important Cancer Screening Today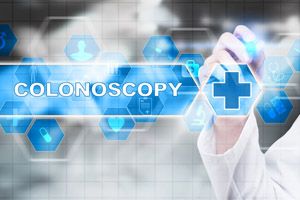 Yes, we know. Getting a colonoscopy isn't your idea of a good time, but then again, neither is paying bills, taking out the trash or doing the laundry – but you do it anyway, right? When it comes to your recommended colonoscopies, it's important to take the same approach in order to prevent colorectal cancer or to catch it early. In this article, we share top reasons why if you're due for a colonoscopy, you should set your fears aside and schedule it today.
You don't want colorectal cancer. According to the American Cancer Society, colorectal cancer is the third leading cause of cancer-related deaths in men and women in the United States. However, colorectal cancer deaths overall have been declining for decades thanks to colonoscopies, a procedure conducted by a gastroenterologist which detects abnormalities in the colon. During a colonoscopy, if a polyp is found, it will be removed through biopsy and tested for cancer. This both prevents precancerous polyps from turning into cancer, and screens for cancer.Dr. John Millili, a general surgeon with Shore Physicians Group's Surgical Division at 649 Shore Road in Somers Point, knows first-hand what can happen when people don't get their recommended colonoscopy. He sees patients when they've developed colorectal cancer and are in need of a colectomy, or the removal of part or all of the colon."Some of the most difficult situations I see are people in their 60s and 70s who neglected to have their colonoscopy and now have colorectal cancer that has spread," says Dr. Millili. "They could have avoided this with a simple colonoscopy procedure, but now they are faced with a far more serious situation. While surgery can be minimally invasive and lead to good results for many, it's far better to catch it early in a colonoscopy. If I never had to do another colectomy for cancer again, that would make me very happy."
You can survive the prep. "Everyone says the prep is the worst part of a colonoscopy, and that's probably true," says Dr. Millili. "However, it's not painful. You just go to the bathroom a lot, kind of like the stomach flu without the pain and cramping. It's not fun, but you can certainly handle it."
Dr. Millili says that following all instructions is the most important thing when prepping for a colonoscopy. "A colonoscopy on a poorly prepped colon is likely to miss abnormalities. If you're going to do it, it has to be done right or you'll need another one."
Colonoscopies don't hurt. You won't feel a thing during your colonoscopy because it is conducted under sedation. It's a same-day outpatient procedure with minimal side effects, even if you have a polyp removed.
You have risk factors for colorectal cancer. People who are at greatest risk for developing colorectal cancer include those who are overweight or obese; lead a sedentary lifestyle; eat a lot of red or processed meats; drink excessively (more than 1 glass a day for women, 2 for men); or are or have been a heavy smoker. Type 2 diabetes is another condition that could increase a person's risk of developing colorectal cancer.
You have an Inflammatory Bowel Disorder (IBD). People with Crohn's disease or ulcerative colitis have an increased risk of developing colorectal cancer and follow different screening guidelines than those without IBD. Colonoscopies for this population are recommended every 1 to 2 years, regardless of age.
You have a family history. Colorectal cancer and polyps run in families. If you have a parent, sibling or child with a history of colorectal cancer, your doctor may want you screened before you reach the recommended age of 50.
You may not need another colonoscopy for five to ten years. Precancerous polyps take approximately ten years to develop into cancer. For that reason, if your colonoscopy is normal with no polyps, you're likely off the hook for a decade. If you do have polyps removed, your doctor may recommend another one in five years.
Colorectal cancer typically only has symptoms when it's advanced stage. Typically you won't notice any symptoms of colorectal cancer until it has spread. "Once symptoms appear, your risk from dying of it goes way up," says Dr. Millili.
Colonoscopies are still the gold standard. Other tests for colorectal cancer are available on the market, but they are less effective and cannot prevent cancer. For example, an at-home stool test like Cologuard, which may be appealing because it doesn't require a prep, only checks for colorectal cancer DNA and blood in the stool. It won't remove polyps. There is also a 13% chance your test will be a false positive or false negative. If your test is positive, you will need a colonoscopy anyway. Virtual, or CT, colonoscopies are a relatively new procedure you may have heard about that don't require sedation, but they do require a full bowel prep. They also don't remove polyps during this procedure, so if any are discovered, you will need a colonoscopy.
You are uninsured or underinsured. If the cost of a colonoscopy is a problem and you are uninsured or underinsured, you may qualify for financial assistance through the NJ Cancer Education and Early Detection (NJCEED) program. Shore Cancer Center is the lead agency for NJ CEED in Atlantic County. To learn more and find out if you qualify, call 609-653-3484 (Atlantic County) or 609-465-1047 (Cape May County).
If you are concerned about colorectal cancer, you can take steps today to lower your risk. Make sure you are eating a healthy diet, exercising regularly, and limiting your use of alcohol and tobacco. Ultimately, following the recommended guidelines for colonoscopy screening is your best bet for preventing colorectal cancer. Talk to your doctor today about your risk factors and when you should be screened.