What You Need to Know Before Firing Up that E-cigarette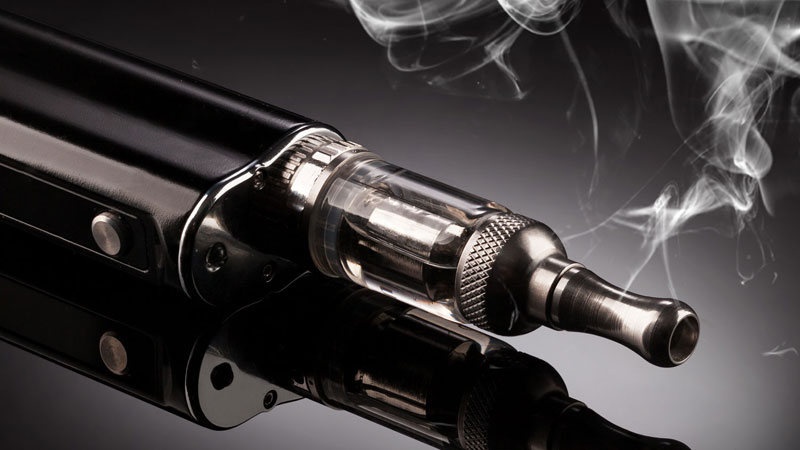 Pulmonologist Dr. Manuel Cunanan says the jury is still out on electronic smoking devices adding that it is too soon and too little is known about e-cigarettes and vape pens to really know what the long term impact may be on future health. "What I do know is that something will come up eventually if you continue to inhale a substance," said Cunanan.
The physician said he recently took a close look at a vape pen a patient brought in to show him and said that it is very basic; there is an outside shell, a battery charges the device and serves as the means to heat the liquid that goes into the pen. The pen holds liquid nicotine, scents and then a solution. "That is what I do not have enough information on, and I don't think anyone does. What is in that solution? It is being heated and it is being inhaled but we do not know enough about what is in it yet," commented Dr. Cunanan.
When is it time to quit smoking?
The physician was quick to say that he has never suggested to his patients that they use an electronic device to help them quit smoking. Monica Eckman Brown, a physician's assistant with the Shore Physicians Group agreed with the doctor. Both were in agreement that the drug Chantix or a smoking cessation course are the avenues that produce the most positive outcomes when helping get a patient to stop smoking.
"Before I suggest treatment options with my patients I ask them if they are ready to quit smoking. The truth is they cannot even think about quitting unless they are ready for it," said Cunanan. "If a person has not made up their mind that they are going to give up smoking, there is nothing we can do- they have to be ready for it, ready to make that commitment on their own."
Pulmonologist Dr. James O'Connor lamented that since few people that pick up a cigarette and start smoking think of the long term damage it might be causing them and that maybe the most effective message might be the financial cost. "When you say to a patient something about how much money they will save once they stop smoking, they look at it like 'oh it's just $8 a day.' Maybe the thing is to look at the cost over a year or a lifetime. If they realized they are spending nearly $3000 a year maybe that would make an impact. Or maybe we should stand in front of a 17-year-old about to start smoking holding $120,000 in one hand or a pack of cigarettes in the other which is roughly what they would spend in 40 years. That might be what we need to grab their attention," lamented O'Connor.
Collateral damage from e-cigarette use
While the long term effects of electronic cigarettes are not crystal clear. There are collateral damage problems associated with their use. While rare, accidental flash burns have occurred due to problems with the batteries that power the device. Dr. Mohit Sood is a reconstructive surgeon with Shore Physicians Group. He does delicate hand surgery, breast reconstruction, works with patients after they have suffered burns and other trauma. Recently he was called to care for a patient who had an electronic cigarette in his pocket that exploded.
Sood explained that his patient was in his 30's, a former smoker who at the time used e-cigarettes. The patient had the e-cigarette in his pocket and explained to the physician that he had a burning sensation and jumped up and the right hip area of his pants was on fire. Then he also had a dripping sensation on his foot and realized battery acid from the electronic smoking device was leaking on his foot. "My patient had a significant burn to his right hip from the actual flame as well as a chemical burn from the dripping battery," explained Sood.
Skin grafts and surgery were in the immediate future of the patient Sood was treating. He spent over two weeks in the hospital and six months in therapy following his discharge. In addition the reconstructive surgeon said his patient has significant sensation issues due to the injury.
As Sood explained, the battery that is used to operate the e cigarette is the lithium ion battery similar to the one used in Galaxy Note 7 phones that were recalled in 2016.
The FDA and Surgeon General chime in on e-cigarettes
While they are relatively new, first commercially introduced in 2003, there is no qualitative review of the electronic cigarette, state officials as well as the Food and Drug Administration and the U.S. Surgeon General Sylvia Burwell are lining up to try and stem the use of e-cigarettes.
The method of delivering the liquid nicotine to the user is pretty simple. The e-cigarette has a battery that when charged warms a flavor pod that is placed inside the device filled with a liquid nicotine and an added flavor.  "Nothing positive is going to happen long term when you take a substance, heat it and inhale it," said Cunanan.
The FDA has banned Juul, the leading manufacturer of e-cigarettes commanding about 70 percent of the sales annually, from marketing flavors geared to a younger consumer like mango and fruity flavors. The U.S. Attorney General's office has issued some stern warnings for the use of e-cigarettes. "While these products are novel, we know they contain harmful ingredients that are dangerous to youth. Important strides have been made over the past several decades in reducing conventional cigarette smoking among youth and young adults. We must make sure this progress is not compromised by the initiation and use of new products, such as e-cigarettes. That work is already underway. To protect young people from initiating or continuing the use of e-cigarettes, actions must be taken at the federal, state, and local levels. At the federal level, the U.S. Food and Drug Administration, under authority granted to it by Congress under the Family Smoking Prevention and Tobacco Control Act of 2009—took a step to protect America's youth from the harmful effects of using e-cigarettes by extending its regulatory authority over the manufacturing, distribution, and marketing of e-cigarettes. Through such action, FDA now requires minimum age restrictions to prevent sales to minors and prohibits sales through vending machines (in any facility that admits youth), and will require products to carry a nicotine warning.  Burwell said, "We have more to do to help protect Americans from the dangers of tobacco and nicotine, especially our youth. As cigarette smoking among those under 18 has fallen, the use of other nicotine products, including e-cigarettes, has taken a drastic leap. All of this is creating a new generation of Americans who are at risk of addiction."
Professor Christina Gratziou, associate professor of pulmonary medicine and critical care at Kapodistrian University in Athens is working on the short term effects of e-cigarette smoking. Using 32 subjects including some lifetime smokers, some non-smokers, several with COPD or asthma, the subjects were instructed to smoke the e-cigarette for 10 minutes.  What she found was that in all groups but the subjects already battling COPD and asthma experienced significant airway resistance after smoking e-cigarettes.
Banned on campus
Even school districts are joining in the chorus to keep young people away from smoking by instituting a ban on e-cigarettes, vape pens and juuling on the school campus at Mainland Regional High School and Linwood School District for students and district employees.
To make an appointment with the pulmonologists Shore Physicians Group, located at 1800, 18 W. New York Ave. in Somers Point call 609-926-1450. Office hours are 8 a.m. to 5 p.m. Monday – Friday.
To make an appointment with Shore Physicians Group Reconstructive Surgeon, Dr. Mohit Sood, located at 649 Shore Road in Somers Point, call 609-653-4535.