Tiffany's "Dietitian Approved" item of the month at Goji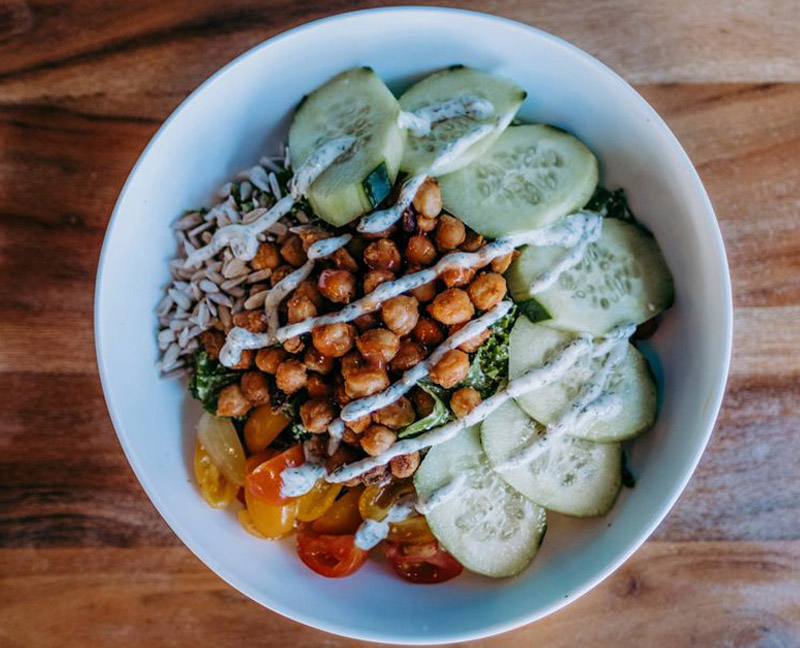 Enjoy this healthy choice recommended by Tiffany Rios, Registered Dietitian and Certified Diabetes Educator with Shore Physicians Group
ITEM: Buffalo Chickpea Kale Salad
Price -$10
Ingredients: kale, sunflower seeds, dill vegan salad dressing and cherry tomatoes.
Getting a nutritionally balanced and antioxidant packed meal on the go is a tall order, but luckily Goji delivers by providing items like the buffalo chickpea salad that is potent in flavor AND nutrients. Read below for the benefits of eating this kale salad:
Raw kale has more calcium than a glass of milk, and is one of the richest sources of antioxidants provided from beta-carotene, lutein, and zeaxanthin. Cruciferous vegetables such as kale have shown in studies to inhibit inflammatory processes, prevent the growth and spread of tumor cells, and protect healthy cells.
Sunflower seeds are one of the highest natural sources of vitamin E. The Vitamin E protects the body's cells from damage due to oxidation, a natural byproduct of metabolism that also results from exposure to environmental pollutants. The vitamin E you get from sunflower seeds also helps your body make red blood cells and keeps your circulatory system running smoothly.
Dressing: Made with apple cider vinegar and vegan-mayo. Apple Cider vinegar is something I use in my practice to support healthy blood sugar levels. To save on calories consider using your fork to use less of the dressing and save the dressing to make another salad/ even wrap some of the buffalo chickpea salad in an almond flour tortilla.
Goji is located at 520 New Road in Somers Point and is open seven days a week on the following schedule: Monday, 9a-6p, Tues-Sat 8a-6p; Sunday 8a-3:30p. Customers can order and pick up through the convenient drive through, and they can also call 609.800.4654 in advance for quick pick up.
Tiffany Rios treats patients at Shore Physicians Group's Endocrinology Division, located at 18 West New York Ave, Somers Point, NJ. To schedule an appointment with Tiffany Rios, call 609-365-5300.