Think E-Cigarettes are an Aid to Quit Smoking? Think Again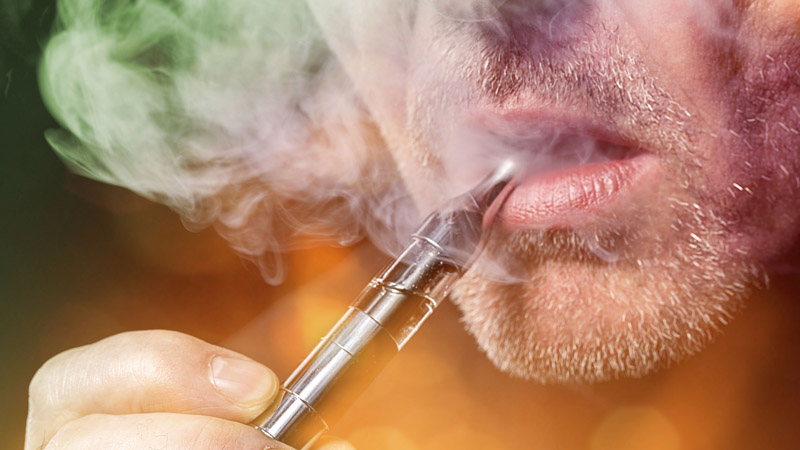 Recently the Centers for Disease Control and Prevention (CDC) has blamed the first death on vaping when an Illinois teen died of chronic pulmonary lung disease. While the death is the first, cases of the adverse health effects of vaping are popping up nationwide with an uptick in acute pulmonary disease being reported in patients who have a history of using electronic cigarettes. The CDC is reporting 193 potential cases of severe lung disease in 22 states related to vaping.
Shore Pulmonologist weighs-in
Proponents of electronic cigarettes will call them a safe alternative to smoking cigarettes or claim they are an aid to help smokers kick the cigarette habit. Dr. Sallustio Del Re, Board Certified in Pulmonary and Critical Care Medicine with Shore Physicians Group said he has never instructed a patient to use an electronic cigarette as a means to quit smoking traditional cigarettes. He added, not only are e-cigarettes not safe, he is concerned that many of the young people who currently use them will at some point switch over to smoking cigarettes.
E-cigarettes are relatively new. First introduced commercially in 2005 with brands like NJOY electronic cigarettes, they gained tremendous popularity in the past five years with teens and young adults. Because they are so new, there is not the luxury of having an historical perspective of complications or problems that link to the e-cigarette or any of its ingredients.
Addictive substance
Along with peer pressure from friends who are vaping, flavors like strawberry lemonade, mango and cappuccino might be another attraction to e-cigarettes. However, according to Dr. Del Re, the addictive nature of nicotine is a big reason so many kids continue using e-cigarettes. "Nicotine is one of the most addictive substances," said Dr. Del Re. The physician added that because the e-cigarette industry is not regulated and the amount of nicotine inhaled or vaped can be up to four times that of a traditional tobacco cigarette, addiction to nicotine can easily occur. Another problem with the e-cigarettes is how they are used that could contribute to future pulmonary problems.

Dr. Del Re said the e-cigarette is really just a delivery system for nicotine. Explaining the basic mechanics, he says the e-cigarette is a simple cartridge filled with liquid, nicotine, and flavorings and uses a battery to heat the liquid and turn it into a vapor. It is that heated-up vapor that e-cigarette users inhale and that is how the term "vaping" evolved. Dr. Del Re said, "Recently cases of acute lung injury that mimic pneumonia have been widely reported. This is direct injury to the lung by the various inhaled substances. This type of lung injury may be potentially fatal." Making it even more problematic, some e-cigarette users are now using THC vape cartridges and alleged counterfeit cartridges in New York and other states have been blamed for users' sudden onset of serious medical problems.
Lack of Track Record
Dr. Del Re said he is concerned with the number of young people who are vaping. "There is just not enough known about how the body is going to react to the chemicals used in the e-cigarette because it is not water in there, it is chemicals and we do not know what those chemicals are and therefore do not know how the body and especially the throat and lungs will react," concluded Dr. Del Re.
CDC and FDA findings
According to the Centers for Disease Control and Prevention and the U.S. Food and Drug Administration, patients in many cases reported a gradual start of symptoms, including breathing difficulty, shortness of breath or chest pain before hospitalization. Some cases reported mild to moderate gastrointestinal illness including vomiting and diarrhea, or other symptoms such as fevers or fatigue. In many cases, patients have also acknowledged recent use of tetrahydrocannabinol (THC)-containing e-cigarette products while speaking to healthcare personnel or in follow-up interviews. While the cases seem similar, actual linkages remain unclear and require further investigation.
Attorney General Weighs In
The U.S. Attorney General's office has issued some stern warnings against the use of e-cigarettes. "While these products are novel, we know they contain harmful ingredients that are dangerous to youth. Important strides have been made over the past several decades in reducing conventional cigarette smoking among youth and young adults. We must make sure this progress is not compromised by the initiation and use of new products, such as e-cigarettes. That work is already underway. To protect young people from initiating or continuing the use of e-cigarettes, actions must be taken at the federal, state, and local levels. At the federal level, the U.S. Food and Drug Administration, under authority granted to it by Congress under the Family Smoking Prevention and Tobacco Control Act of 2009—took a step to protect America's youth from the harmful effects of using e-cigarettes by extending its regulatory authority over the manufacturing, distribution, and marketing of e-cigarettes. Through such action, FDA now requires minimum age restrictions to prevent sales to minors and prohibits sales through vending machines (in any facility that admits youth), and will require products to carry a nicotine warning. Former Attorney General Sylvia Burwell said, "We have more to do to help protect Americans from the dangers of tobacco and nicotine, especially our youth. As cigarette smoking among those under 18 has fallen, the use of other nicotine products, including e-cigarettes, has taken a drastic leap. All of this is creating a new generation of Americans who are at risk of addiction."
To make an appointment with Shore Physicians Group Pulmonologist Dr. Sallustio Del Re, call 609-926-1450. Office hours are 8 a.m. to 5 p.m. Monday – Friday. The office is located at 18 W. New York Avenue in Somers Point.