Six Ways to Flu-Proof Your Family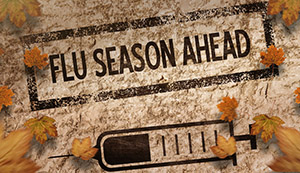 If you haven't yet thought about how you'll fight the flu this year, now is the time. Flu season begins in October and runs for eight straight months until May, peaking from late December to early March. While the flu is especially dangerous for young children, the elderly, and people with chronic health problems, it's really no fun for anyone. With symptoms ranging from aches, chills and headaches to a cough and sore throat, the flu can really put you out for the count and make you miserable.
Maureen E. Snyder, APN, of Shore Physicians Group's Margate office, offers tips on how you and your family can stay flu-free this year:
Get vaccinated (every year). The flu vaccine is recommended annually for everyone age six months and up. If your family hasn't received a flu shot by now, you should plan to in the next few weeks. The earlier you get your flu shot, the longer your body has to build up immunity and the likelier it is you will avoid getting the flu. Getting the shot each year is important because it loses immunity over extended periods of time. Also, the prevalent virus strains change every year, so last year's flu shot may not be effective against this year's flu strains. People over 65 should receive a high- dose flu vaccine. This vaccine produces a stronger immune response in the person getting the vaccine. If you're afraid of needles, there is an intradermal shot for people age 18 to 64 that is smaller and goes under the skin, instead of in the muscle. The CDC does not recommend the intra-nasal flu vaccine because it is not very effective.
Wash your hands often. The flu virus is spread through droplets from the mouth and nose of someone with the virus. It can live on surfaces for two to eight hours, so it's important to wash your hands frequently with soap and water (sing the "Happy Birthday" song twice), or use an alcohol-based hand sanitizer if soap is not available. If you're having trouble getting young children to wash their hands often, try making it fun by buying an automatic soap dispenser with fun scented soap, or by making it into a game.
Don't touch your face. Do you tend to bite your nails, rub your eyes or scratch your nose? Touching your face can easily spread the flu virus through your oral, ocular and nasal passageways so it's important to keep your hands away from them.
Disinfect frequently-touched surfaces. Doorknobs, counters, remote controls, chairs and tables are all objects we frequently touch. Keep sanitizing anti-viral wipes handy and ask your family to commit to keeping surfaces clean. Get in the habit of washing your hands as soon as you walk in the door.
Wipe down your phone. You've probably heard that our phones are the biggest source of germs. Remember to wipe down your phone regularly and keep a stash of pocket-sized sanitizing hand wipes in your purse or wallet to make cleaning your phone convenient.
Eat right, sleep well and exercise. Maintaining overall health is vital to preventing the flu. Without proper rest, diet or activity, your immune system becomes more susceptible to illness.
Shore Physicians Group is hosting several flu clinics throughout the month of October for current patients. If you are an SPG patient and you would like to attend one, call our main number at 609-365-6262 and select your preferred location to learn more.