#ShoreHealthcareHeroes: Shore Physicians Group Call Center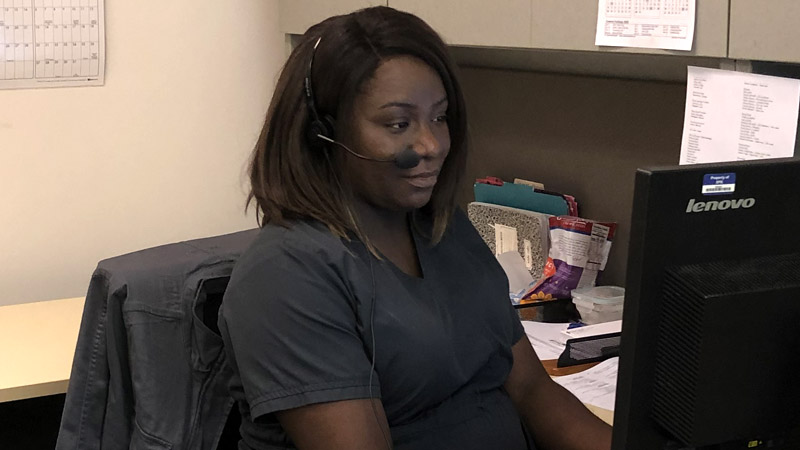 Tashana Joyce helps a patient schedule a telehealth appointment.
Social distancing has changed the way we do everything, from food shopping and socializing to learning and even going to the doctor. To respond to these changes, Shore Physicians Group had to quickly find a way to minimize in-person contact in the offices while still serving the healthcare needs of its patients and the broader community.
To do that, SPG consolidated all of their outpatient providers and 11 offices into just three locations and introduced a new way of caring for their patients – through telehealth via their smartphone or computer. And with many offices closed, they had to create a new call center where a team of Patient Service Representatives fields calls from 8 to 4:30 p.m.
Lindsay Richter, Director of Operations for Shore Physicians Group, says she is impressed by how the team pulled together the call center in just one day.
"Typically, putting together a fully centralized call center in such a short period of time would be a massive challenge, especially with most people working remotely. But this team really came together to do whatever needed to be done to support our patients," Richter said.
The call center was set up in SPG's former pulmonary office in Somers Point and is staffed by 11 patient service representatives, one from each of its offices. They are fielding patient calls and scheduling their virtual and in-person appointments, while also teaching patients how to use the new telehealth technology. The team is spaced well enough apart, with most working out of their own office to abide by social distancing rules, but they're able to communicate easily with one another as well when they have questions.
Jaime Allen is the onsite call center supervisor. She's there to support them and keep everyone motivated. And it's working.
"The other day, the team fielded nearly 1,000 calls in just 8.5 hours, but the average wait time was only two minutes. It's really incredible," Allen said.
Jennifer Servis, who is typically a patient service representative at SPG's Bethel Road office, says while she misses the face-to-face interaction with patients, she enjoys helping them become familiar with telehealth.
"Some patients have a really hard time getting to an appointment, whether it's because of mobility or transportation issues, or even if they simply don't feel well enough to leave home. With telehealth, those barriers are eliminated. And sometimes they can get a virtual appointment not just that same day, but within the hour. It's not appropriate in every case, of course, and in those instances, we'll schedule them to come in," Servis said.
Allen says she believes telehealth is here to stay.
"Patients have been surprisingly open to telehealth. It's a great way to provide for our patients at point of care where they need it most. It's awesome when used in an appropriate manner."
Shore Physicians Group is caring for its current patient base, but they are also accepting new patients as well.
To view additional photos please click here to visit our Facebook page.