Shore Physicians Group to Host Free Education Breakfast on Back Pain Sept. 29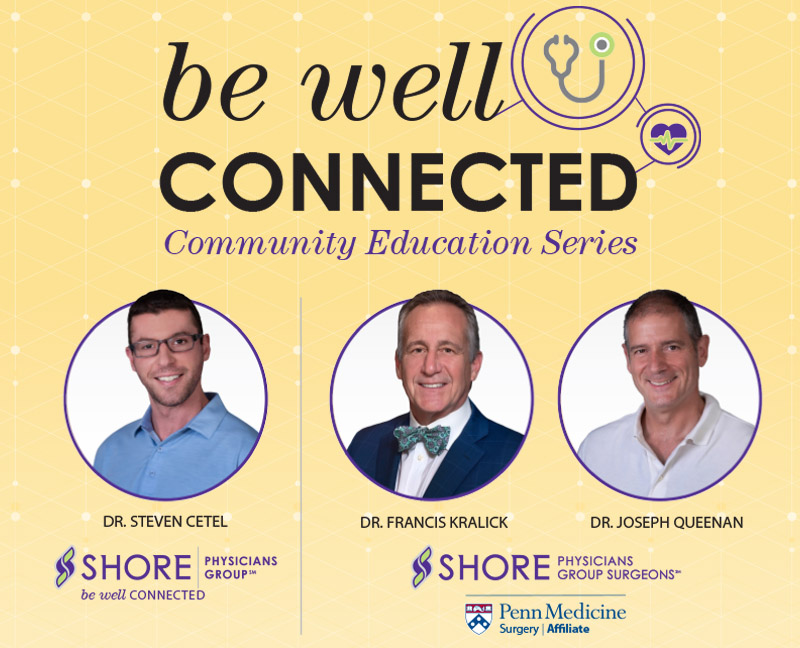 Approximately 8% of all American adults suffer with chronic back pain, but the path to feeling better can be complex. To help people learn more about their surgical and non-surgical back pain treatment options, Shore Physicians Group will host a free education breakfast on Thursday, September 29, 10 am to noon, at Josie Kelly's located at 908 Shore Road in Somers Point. To RSVP, contact Jessica Giles at 609-653-3986 or jgiles@shorephysiciansgroup.com. The event is part of Shore Physicians Group's popular "Be Well Connected" education series.
SPG's expert panelists will include neurosurgeons Francis Kralick, DO, FACOS, and Joseph Queenan, MD, as well as non-operative sports medicine physician Steven Cetel, DO. Dr. Cetel will dis-cuss the ways he can help alleviate back pain in his patients, including with medications, injections, physical therapy and braces. Dr. Kralick and Dr. Queenan, who are also affiliated with Penn Medicine, will talk about when surgery is recommended and the types of surgeries they offer patients who have exhausted non-surgical avenues. The event will feature physician presentations as well as an interac-tive discussion and Q&A.
As part of this free event, guests will enjoy an Irish continental breakfast with scones, bagels and cream cheese, fruit juice, coffee and more.