Renowned Endocrinologist and Diabetes Expert Matthew H. Corcoran, MD, Joins Shore Physicians Group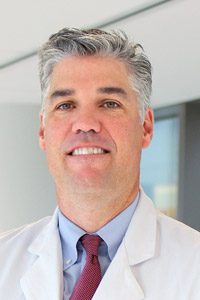 Shore Physicians Group recently welcomed endocrinologist Matthew H. Corcoran, MD, to its Northfield practice. Board certified in Diabetes, Endocrinology and Metabolism and a diabetes and exercise specialist, Dr. Corcoran is committed to helping people living with diabetes thrive and is especially passionate about helping patients realize their activity and athletic goals while managing their diabetes.
After graduating from Georgetown University with his Doctor of Medicine, Dr. Corcoran completed his Internal Medicine residency and Diabetes and Endocrinology fellowship at the University of Chicago. Before entering private practice, Dr. Corcoran served as an assistant professor of medicine and director of the endocrinology clinic, insulin pump and sensor programs at the University of Chicago.
Dr. Corcoran's involvement in improving the quality of life for people with diabetes extends well beyond the traditional medical setting. As the founder of Diabetes Training Camp Foundation, which provides programming, general fitness and multi-sport camps for teens and adults living with diabetes, he has helped countless people build a network of community and support through their shared experiences as exercisers and athletes with diabetes. Through his consulting firm, Matthew Corcoran Consulting, he has worked with athletes of all levels, from recreational to professional to improve their performance while managing their diabetes healthfully. Dr. Corcoran was a contributing author and was instrumental in developing the National Athletic Trainers Association's first position statement on working with athletes who have type I diabetes. He also is invited to present on diabetes, diabetes and exercise and other related topics at professional meetings around the country. Dr. Corcoran was recently honored for his work as a physician and educator by the American Diabetes Association as one of twelve diabetes "Game Changers" in their 2016 People to Know edition of their Diabetes Forecast publication.
"I'm excited to join the team at Shore Physicians Group and to work with them to deliver outstanding diabetes care to our community of people living with diabetes in South Jersey.  Through programming and clinical care I am dedicated to helping our patients thrive," said Dr. Corcoran.
For more information or to schedule an appointment with Dr. Corcoran, please call 609-365-5300.