Dr. Lawrence Anastasi's Tips for Staying Well Connected with SPG Telehealth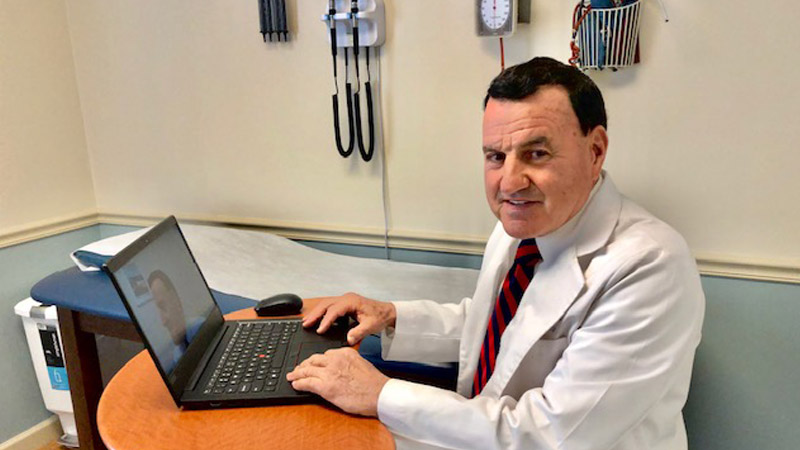 It is important to remain connected to your board certified Shore Physicians Group providers for your continued healthcare needs during these challenging times.
Dr. Lawrence Anastasi, family medicine physician at SPG's Margate office, advises the importance of maintaining a healthy lifestyle, particularly during the Covid-19 pandemic. Additionally, if you have have pre-existing conditions, you may be more vulnerable. Those conditions include heart disease, hypertension, diabetes, chronic lung disease, including asthma and COPD, chronic kidney disease, obesity, or are immuno-compromised, i.e receiving chemotherapy, or over the age of 65.

Here are some tips for staying well from Dr. Anastasi:
Eat a well-balanced diet
Engage in some form of exercise and physical activity within your limits, such as walking or gardening
Get adequate sleep, 6-8 hours per night is recommended.
Reduce your stress using techniques such as mindful meditation, yoga, Tai Chi, and keeping socially connected to family and friends virtually.
Of course, no smoking.
Know your numbers (blood pressure, blood sugar, etc)
All of these elements are key in on-going disease management and help to improve your overall health. Through telehealth, we can empower you to actively coordinate your healthcare needs to prevent complications, especially during the Covid-19 pandemic.
Dr. Anastasi outlined some of the most important healthy numbers you should know:
Blood pressure of 120/80 or lower
Fasting blood sugar less than 100
HgB A1C less than 5.7
Cholesterol less than 200
LDL cholesterol less than 100
BMI 18.5 – 24.9
Heart rate 60-80 beats/minute
Remember, your SPG health care providers are available for you via telehealth at this time to answer your questions and concerns regarding Covid-19, and also to assist you in managing and maintaining control of any pre-existing medical conditions that you are already facing.
SPG makes it very easy for you to schedule a telehealth visit with your individual providers and specialists. This can be done by calling your SPG office location.
It is important to know that during these challenging times our dedicated staff are here to assist you with your medical needs and concerns. Our goal is to keep you healthy and informed by staying "well connected".